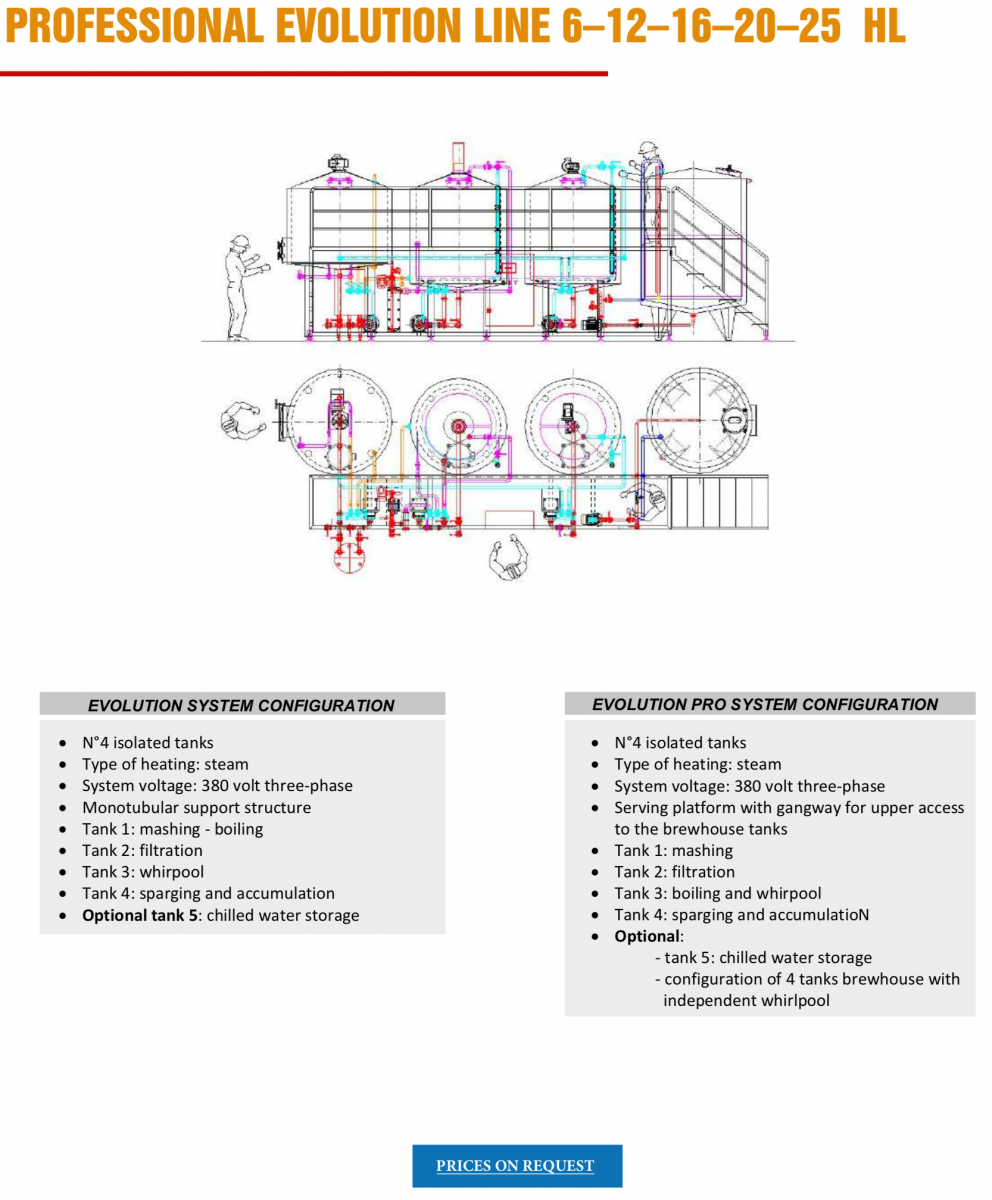 The EVOLUTION brewhouse can be configured with 3- 4 tanks, from 12 – 16 – 20 – 25 hectoliters (for single/double batch or batch continuously), it is the ideal solution for professionals in the sector, it can be designed according to customer production needs.
Made of stainless steel AISI 304, with high-quality materials, it has been designed for the production of any type of beer.
The EVOLUTION brewhouse has a dedicated software, simple and intuitive to use, with integrated remote assistance control, to guarantee maximum energy savings and reduced maintenance.
The processes transfer of the must from the bottom, limit the possibilities of oxidation, combined with the filtration in an independent tank and the tanks dedicated to each individual process, ensure that this brewhouse guarantees high efficiency, yield and production capacity.
The PROFESSIONAL EVOLUTION cooking room will be realized in the configuration:
EVOLUTION PRO
EVOLUTION EVO
The brewhouse has a production capacity per batch between 12-16-20-25 hL of must finished at 15 ° P with an average yield of 85%, it has a very low degree of oxidation of hot must and requires a reduced use of chemical products for sanitization.
It is very compact, simple to manage and with a high degree of reliability.
The system includes a steam supply.
Tanks made with certified steel, using oversized sheet metal shims to guarantee strength and durability over time.
It consists of:
– a steam heating boiler with a stirring system that allows the mashing stages
-a separate tank where only the filtration of the threshers with sparging takes place
– a steam heating boiler where it is boiling and whirlpool
– a boiler-sparging tank
– a plate heat exchanger for cooling the must
– a support base unit system and central interlocking platform
– an electrical control panel
– a group of pumps
– a system of pipes, valves and DIN food fittings for moving the product.
Fully prepared for operation, prior to connection to the power line and the water supply.
After positioning the machine, it is necessary to connect the boiler to produce hot water.
The PROFESSIONAL EVOLUTION brewhouse will be realized in the configuration:
Evolution Pro equipments
TANK 1 (mashing)
TANK 2 (filtration)
TANK 3 (boiling and whirlpool)
TANK (sparging e accumulation)
TANK (chilled water storage)
Evolution Evo equipment
TANK 1 (mashing)
TANK 2 (filtration)
TANK 3 (boiling and whirlpool)
Optional TANK 4 (whirlpool)
TANK (sparging e accumulation)
TANK (chilled water storage)