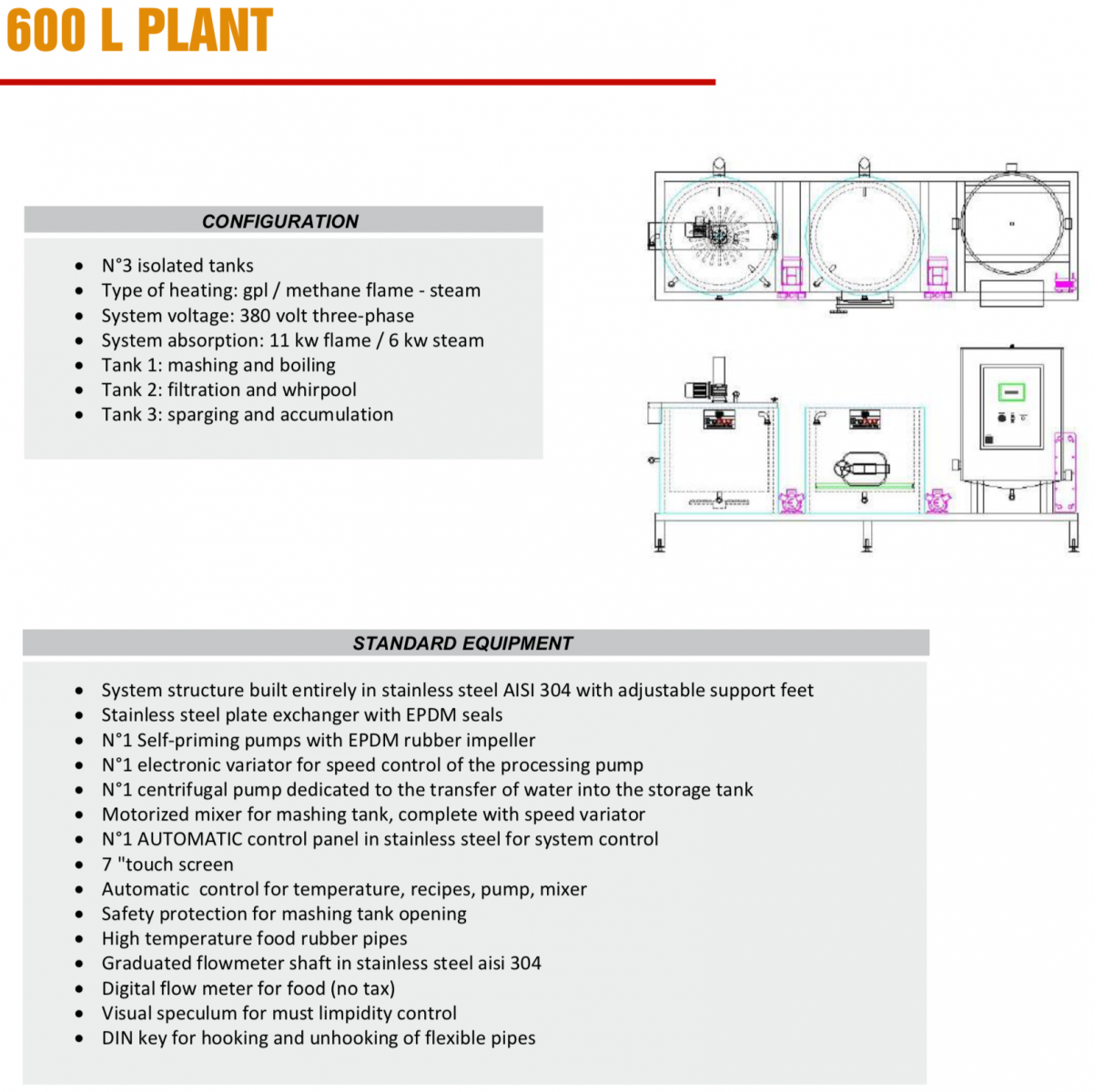 600 L Plant
The 600 L brewhouse is the ideal model for microbreweries and brewpubs wishing to start in the world of craft beer but also for wineries, farms, beverage producers and restaurateurs who want to diversify an existing business.
Very compact brewhouse, suitable for the production of any type of beer, ensures high efficiency and yield and is very simple in installation and use.
Description
HEATING: flame or steam
A flame version made with a special cavity to guarantee a uniform heating of the tank and flue to extract the combustion exhaust fumes.
A steam version designed for connection to the steam generator, to simplify installation.
Tanks made with certified steel, using oversized sheet metal shims to guarantee strength and durability over time.
STRUCTURE: support in stainless steel AISI 304 with adjustable feet.
The brewhouse is equipped according to the PLC configuration for the semi-automatic management of the internal production cycle.
Must transfer pump managed by an inverter.
The mixer ensures perfect mixing and thanks to its configuration allows the end of the production cycle, a simple removal to facilitate access to the tank and its cleaning.
Filtration tank with a conical bottom, equipped with a rectangular door with removable slide, to facilitate the expulsion of exhausted threshers.
Plate exchanger in AISI 304, with a high coefficient of exchange, simplicity, and safety in sanitization and possibility of maintaining the exchanger through suitable regeneration of the plate pack.
Completely prepared for operation, after connection to the power line and the water supply.
The equipment provides the possibility of adding a third tank for boiling/whirlpool to double the capacity and reduce production times.
The Enobeer Easy line offers various configuration possibilities, based on the needs: